One could say, I've been around show business my whole life. I started at the tender age of 18 months when I played Robert Redford's daughter in *The Voice of Charlie Pont*. I continued working until I was 8 or 9 years old with entertainment talents like Ann-Margret, Clint Eastwood, Barbara Hershey, Rance, Ron, and Clint Howard to name a few. I feel truly honored to have been blessed at such a young age. Although it has taken me almost 40 years to make my way back to the screen, I have never lost my passion for the business. It has been a part of my life in one form or another since I can remember. When I was 16 years old I began to make my way into the music business when I won 3rd place in The Battle of the Bands. At the age of 19, I became a professional Roller Derby skater with the Detroit Devils as #22 and a short time later I even had my own radio show on 93.5 FM, *The Tammy Jean Show*. Not long after, a well-known promoter, Mr. Johnny Burger introduced me to a band known as the California Express. Its members included the nephews of the Famous Tex Williams, Russ Paul, and Dennis Orr and Tex's son in law Sam Aiello as well as Marty Rifkin and Christopher Nielson. They, in turn, introduced me to singer/songwriter, Jeffrey Steele. We all became great friends and bandmates as we headlined all over California as *Miss Tammy Jean and the California Express* over the next 5-6 years. It wasn't until much later, when I discovered Karaoke that my real dream came true and I met my wonderful husband Tom and we have a beautiful son by the name of Robby. Now, it seems, my life has come full circle, and I have had a great opportunity to make my way back to the screen. I created my webpage to highlight my life and more at the request of my fans from the celebrity autograph shows that I appear at.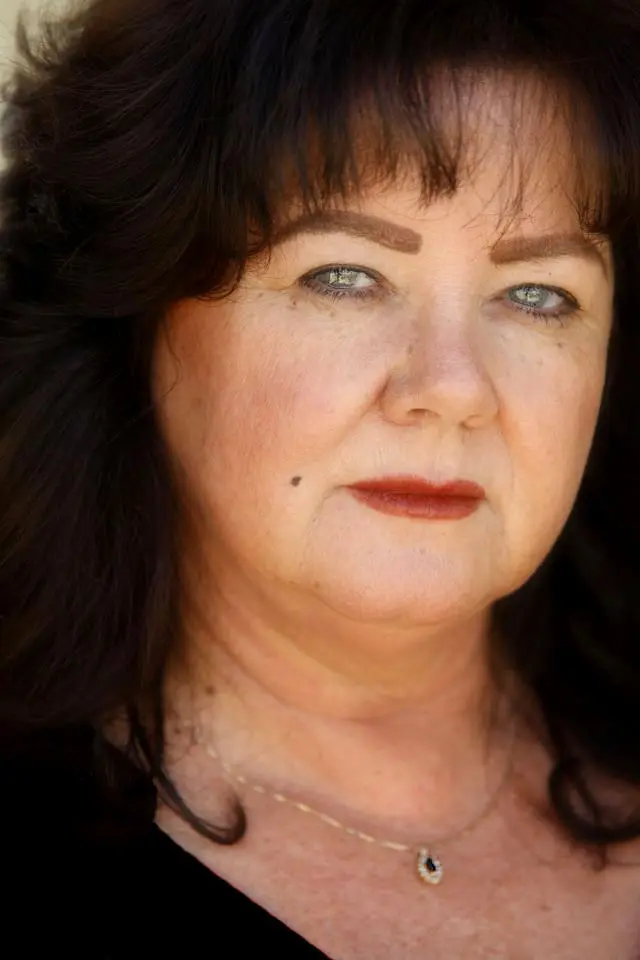 My motto is **Enjoy life, it's the only one you have**. That's exactly what I intend to do!
**** A little more about my life and with stories ****
My life as a child actress was a great experience. I am honored and humbled by the fact that I've worked with the best of the best; such as Robert Redford and Diana Hyland in Alcoa's "The Voice of Charlie Pont", I was their daughter Sally Laurents. *** I remember this really funny story that was told to me all throughout my life by my mother. It's about being on the set of The Voice of Charlie Pont. I was only 18 months old and there was a scene where the director Robert Miller wanted me to play in this pint-sized pool. I apparently looked at this pool and said "There ain't no water in that there pool!!! So the director had the crew go get some hoses to fill it up. When the pool was filled up they got ready for the scene. They had just finished my hair and everything for the scene, they put me in the pool. The director said "And Action" and something happened that no one had planned. Someone had put this bucket into the pool right next to me and I saw it. I took that bucket and completely filled it up with water and poured it completely over my head and said "Weeeeeee" "Look at me I'm all wet" then I looked up and smiled at the director and giggled. His jaw apparently dropped and he said "Cut!!! Cut!!! Someone get Tammy out of that pool and dry her off and fix her hair again and when we get ready to shoot this scene again "Don't give her that bucket"!!!! Everyone was laughing but did just as he instructed. The scene was shot again and went just as he wanted…. ***
I've made many commercials but two commercials have a very special memory for me. I was the first co-pilot to the original Oscar Mayer Wiener Mobile with pilot Jerry Maren. Jerry is also the lead munchkin of the lollipop guild from the movie The Wizard of Oz with Judy Garland. I also appeared in the Mother's Cookies commercials driving a bright red sports car. Man, driving that car was awesome and the highlight of my day!
Then a great experience, being chosen for the role of Kathy Pedak in the movie "Once a Thief" daughter of Kristine and Eddie played by Ann-Margret and Alain Delon. Other great actors in that movie were Jack Palance, Van Heflin, John Davis Chandler, Tony Musante, Jeff Corey, and Steve Mitchell. All great actors! *** I remember once Ann-Margret gave me this beautiful bright orange wooden horse. I really loved that horse! Ann was so wonderful and loving I remember her giving me big hugs and kisses all of the time. I Love You Ann very much!! Always have Always will!! One of the things Alain used to do with me was swinging me around and around and man did I love that! Then he used to put me up on his shoulders and walk everywhere. His hugs just made things better!!! I l Love You Alain very much!!
Then along came the opportunity to star in a TV Pilot called "Meet Me In St. Louis". Remember the movie with Judy Garland and Margaret O'Brien? Great movie!! Well, I played Margaret's role as Tootie! What an honor! This show starred Celeste Holm, Wesley Addy, Shelley Fabares, Morgan Brittany, Larry Merrill, Judy Land, and Reta Shaw. All great actors! *** Morgan and I used to play for hours and hours. I really looked up to her.. I love you so much Morgan!! You're such a beautiful lady!! ***
Just after that, I was truly blessed by being chosen for the role of "Amy Monroe" in a western series called "The Monroes" Here's how I got the part!!!!
What my mother told me was that she was called by the secretary of the head of 20th Century Fox. He wanted my mother to come in and bring me.
When my mother and I arrived, the secretary notified him and he came out to the waiting area outside his office to meet my mother Lola, he reached out his hand and shook my mother's hand and as for me, I walked right past him into his office. They looked at me and said hey; wait a minute, embarrassed my mother laughed a bit. When they entered the office, there I was, sitting at his desk in his chair with my feet propped up and on the phone talking away as if I was on a call.
He looked at my mother and said, if Tammy's got guts like that, and has no problem with what she's doing then she's perfect for the role of "Amy" in The Monroes!
There were 26 episodes filmed and it was truly the greatest time of my young life in the movie business! Wow! What a list of great stars! The lead starring roles were Barbara Hershey, Michael Anderson Jr, Keith and Kevin Schultz, Ron Soble, Liam Sullivan, and Ben Johnson, and of course myself. Other great actors that appeared on my show was Robert Middleton, James Westmoreland, James Brolin, Noah Beery Jr., Buck Taylor, Tim O'Kelly, Rance Howard, Ron Howard, Clint Howard, Dub Taylor, Robert Lansing, Kay Lenz, Richard Kiel, Michael Dunn, and many other great actors! *** One of the many things that I loved the most about growing up on stage was being able to attend school there. I sat at the same desk that Shirley Temple did. Her name was written on the desk and that just made my day. I also loved the cast that I was so blessed with. Barbara, Michael, Keith, Kevin, Ben, and Ron were so loving to me. It truly was a fun and fantastic great time! *** I remember one time in our hotel in Jackson Hole, Wyoming it was Halloween and my mother was able to get me a costume. I had my candy bag and was going Trick or Treat to every room in that hotel!! Man did I have fun and did I make out!! That was cast members and crew and I think the writers and directors rooms too…
I even had a cameo part in the movie "Hang Em' High" with Clint Eastwood. Man!! Who doesn't love Clint Eastwood!!!
Then to top it off Rance Howard was my acting coach. What a kind and loving man. What I remember most about him was that he was a very patient man and loved teaching you the craft of acting. And he had such a way of instructing you it didn't seem like it was school at all. In a lot of ways he made it feel like we were learning a fun story when in fact that's what it was. I love you Rance, you are awesome!!!
Here is a list of great people that played a very important role back in those days by the things that they did with me.. They treated me very special and with a lot of love. They are: Noah, Robert, James Westmoreland, and James Brolin. *** I remember James Brolin playing a cute joke on me on the set, using a block of salt that was there for the horses.. Somehow he convinced me to taste it and boy did it taste nasty but I laughed and laughed about it.. I love you James!! ***
I also had the honor in playing with Michael Dunn. If you know of Michael then you'll know that he was little like me. That alone made it the best!! He was like playing with someone my own age and I loved that most of all!! I love you so much Michael. Wonderful memories!!***
In addition to these wonderful memories, I am honored to say I got the chance to grow up with Billy Mumy (Will Robinson) of the series Lost in Space!! He's so awesome folks! Check him and the great group of guys he plays with, the band called The Jenerator's at Rusty's Surf Ranch in Santa Monica, California.. They are awesome!!!
Someone else very special to me was Darby Hinton (Isreal Boone) of the series Daniel Boone.. *** It was funny, the word was that whenever one of us wasn't on our stage the director would always yell out "You'll find Tammy with Darby probably on their bicycles getting into trouble somewhere!" We used to set the alarms off by going through the doors while they were shooting a scene.. hahaha
One time I remember sleeping over Darby's house in Bel Air Estates. Would you believe that the pool was smack dab in the middle of his living room? On Photo Gallary 3 Picture 68 you can see it. Anyway, somehow I ended up sleepwalking one night and fell right into that pool!!! I woke up immediately figured out what happened and got out and went and dried myself off and went back to bed. All I remember was that house was the coolest house on the block!! And I wished I had one just like it!!!*** and Wow ladies! He was such a hunk!!**** Darby I love you very very much! Always have always will!!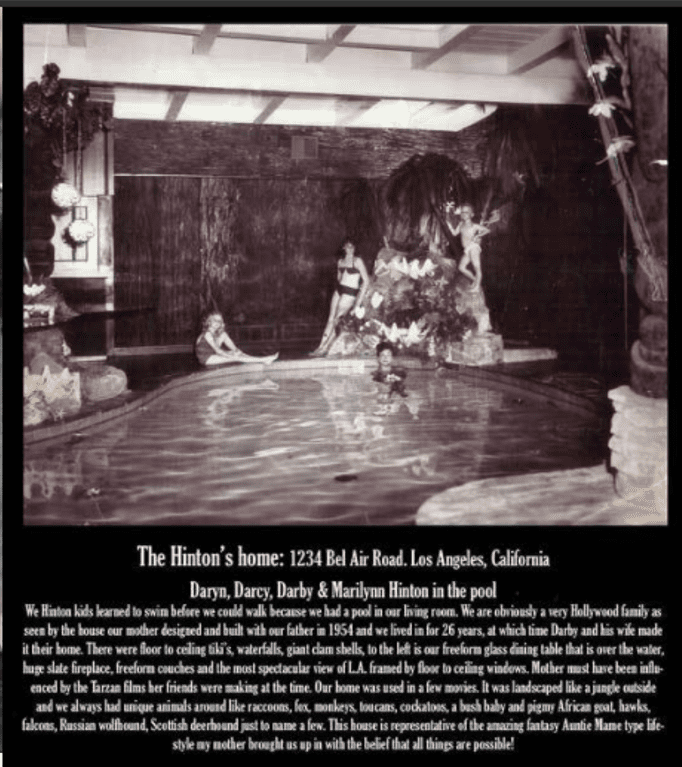 As a little girl growing up we used to board our horses at the OK Corral Horse ranch right across the street from Butch Patrick's home, he played (Eddie Munster) of the series The Munster's... I remember us all riding to Butch's house all of the time. That was a blast! He was really awesome and fun to be with not only outside but on the movie lot too!*** I love you Butch!!!!
I am truly blessed to have had such a great group of actors and memories with them for such a short period of my young movie life in the business!!! I started my TV/Movie career at age 18 months old and finished it at 10 years old.. I wouldn't have changed it in any way! Here's to the great memories of my life and to today's great memories as well.
Smiles and Hugs!!
Enjoy, Hugs and kisses to all of my fans, friends, and family
Always, Tammy
Contact: [email protected]